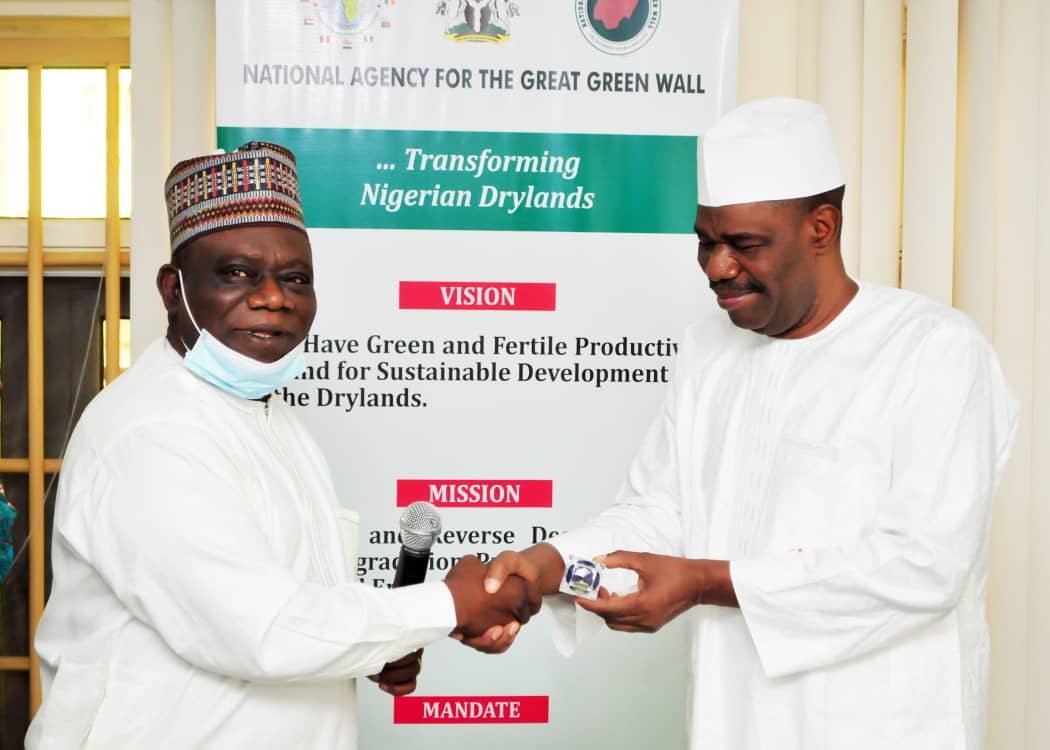 PSIN BOSS PAID COURTESY VISIT ON NATIONAL AGENCY FOR GREAT GREEN WALL BOSS
The Administrator/Chief Executive Officer, Public Service Institute of Nigeria (PSIN), Dr. Abdul-Ganiyu Obatoyinbo led the PSIN management team on a courtesy visit to the Director General/CEO National Agency for Great Green Wall, Dr. Bukar Hassan.
Dr. Obatoyinbo, in his address, during the visit informed the management of the National Agency for Great Green Wall that the Public Service Institute of Nigeria remains the face of Public Service. He appreciated the management for the warm reception accorded him and his team.
He stated that the visit was to appreciate the leadership for the existing and highly robust relationship between PSIN and their Agency.
He further stated that human capacity needs of staff are ever changing globally and for organisation to attain its goals and objectives, it requires employees who are Efficient, Productive, Incorruptible and Citizen-centred (EPIC) which can only be attained by consistent and continuous capacity building through training and retraining of its staff.
He observed that in recent time, the Institute handled and is still handling strategic assignments involving various Ministries, Departments and Agencies. He also said that the Institute is currently hosting about one thousand five hundred N-Power training Participants, the ongoing Service-Wide Training on Performance Management System organised by the Office of the Head of the Civil Service of the Federation, Pre-Examination training for the Directors aspiring to becoming Federal Permanent Secretaries, Pre- Examination training for the Directorate Cadre in the Federal Civil Service, Capacity Building Training and Workshop for States Head of Service and Permanent Secretaries and host of other capacity building Programmes according to training needs of each organisation.
Dr. Obatoyinbo solicited for more support in providing lasting solutions to the ecological problems in the Institute and in helping to make PSIN green, conducive learning environment for training, examination and other activities.
Dr. Obatoyinbo enjoined the Director General of the Agency to take advantage of the available capacity building opportunities in PSIN by sending their staff for training at a minimal cost.
Earlier, the Director General /CEO National Agency for Great Green Wall, Dr. Bukar Hassan, welcomed the PSIN Team and said that the need to train and build capacity of staff is very important and not negotiable. He also expressed his desire to sustain high standard service delivery in the organisation through regular building the capacity of staff.
HE noted that PSIN is a government institution established to carry out manpower development of public servants. According to him,PSIN has been able to leave up to expectations as far as capacity building is concerned" .He assured that the National Agency for Great Green Wall will continue to partner with PSIN.
Giving the vote of thanks, the Legal Adviser to the Agency Mrs. Kate Okoli appreciated the management of PSIN and pledged the Agencies unalloyed commitment to make the partnership work.
Adegboro Modupe
Head (Media & Protocol)