PSIN
Administrator's Profile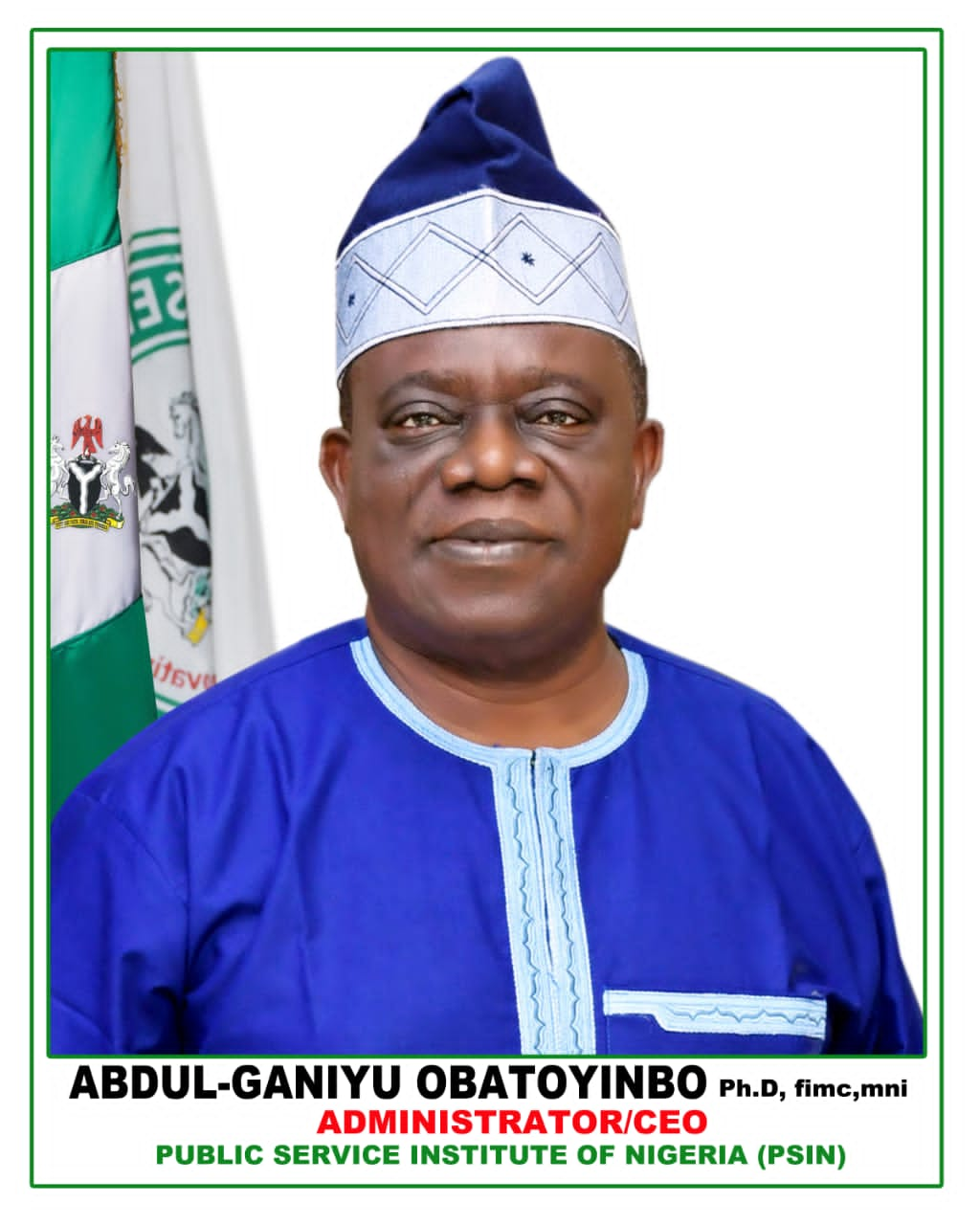 Dr. Abdul-Ganiyu Obatoyinbo was born on the 29th December, 1957 at Iyamoye in Ijumu Local Government area of Kogi State. He started his educational career with St. Banabas Primary School, Ilorin, Kwara State and proceeded to Abdul Aziz Attah Memorial College, Okene for his secondary school where he passed the West African School Certificate(WASC) in 1975. In a quest for additional knowledge, he went to the prestigious University of Ibadan for his Degree programme in Sociology in 1980 and later backed it up with a Post Graduate Degree in Business Administration from Bayero University, Kano in 1996. In 2008, he completed his Phd. in Public Administration and Policy Analysis from University of Abuja.
He started his working career in the Banking sector in 1981 with the former Bank of the North as a Personnel Officer. He rose to Senior Management positions and at various times headed three major branch offices of the Bank until 1995 when he joined the Public Service. He served meritoriously in different strategic positions as Director up till December 2009. While in the Civil service, he served as Secretary of Programme (Administrative Head) of the National Poverty Eradication Programme (NAPEP), under President Olusegun Obasanjo, GCFR. He also served as Director in other strategic agencies as the National Planning Commission and other Ministries which includes Commerce and Industries, Interior, Women Affairs as well as Tourism and Culture.
Upon his retirement from Civil Service in 2009, Dr. Obatoyinbo returned to the private sector as the Managing Director/CEO of Redbricks Consultants Limited, involved in Human Resource Management Consultancy and has impressive performance record of training in strategic management, culture change and organization development programmes for organizations in both the public and private sectors.
Dr. Obatoyinbo, is also an alumnus of the prestigious National Institute for Policy and Strategic Studies (NIPSS) and Fellow of the Institute of Management Consultant and Cost Management.
He has diverse experience and credible record of performance across the public and private sectors particularly his later involvement in human capital development.
The new Administrator of PSIN is geared to turn around the fortune of the institute through the injection of commercial operations and strategic partnerships.