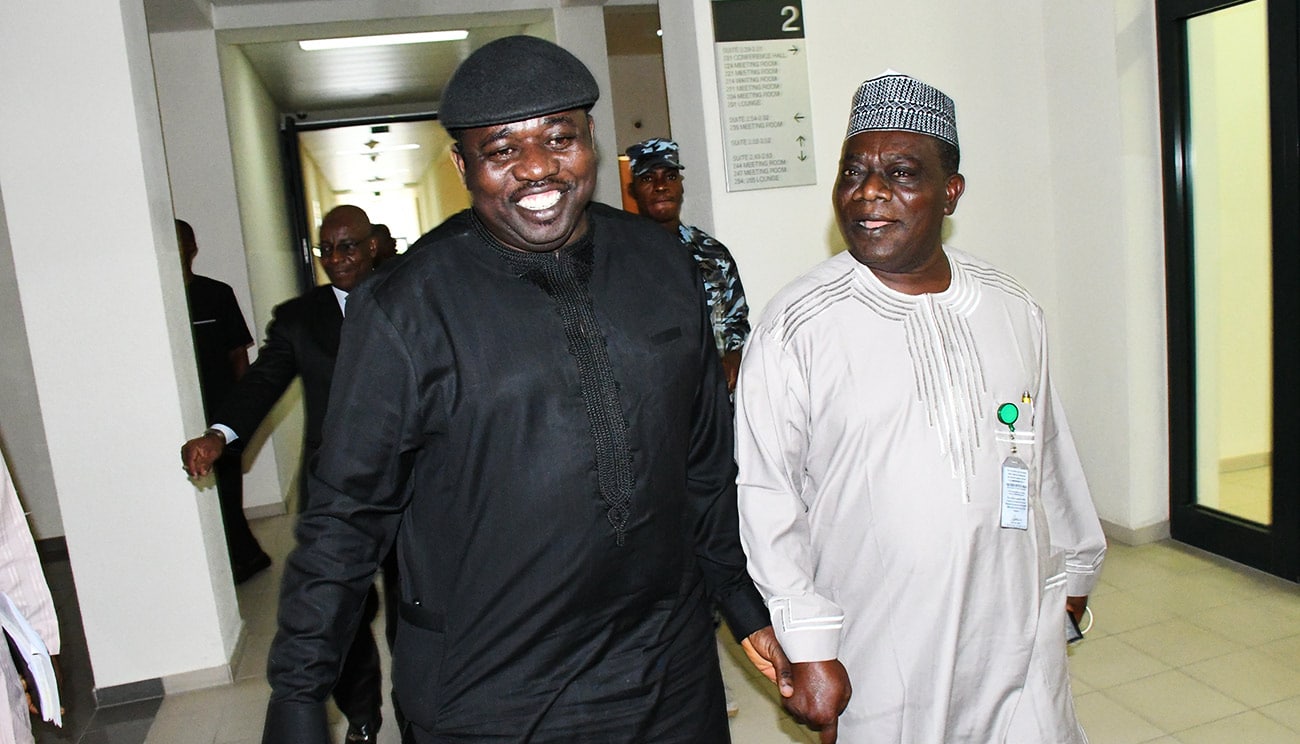 House Committee On Public Service Matters Commends PSIN
The Chairman, House Committee on Public Service Matters Hon. Gogo Tamuno Bright, has commended the Administrator/Chief Executive Officer, Dr. Abdul-Ganiyu Obatoyinbo for developmental strides has achieved so since his assumption of office.
The Chairman made this commendation when the Committee had an interactive session with the Administrator in the National Assembly. He said that the Committee members during their oversight visit, were privileged to have first-hand knowledge of the innovations and restructuring that the Administrator has carried out in the Institute. He added that the interaction was meant to track the progress so far made in the area of infrastructural rehabilitation.
Dr. Abdul-Ganiyu Obatoyinbo in his response expressed appreciation for the level of support the Institute has enjoyed from the Committee members. He however decried the speed of decay of some of the giant structures in the Institute as a result of paucity of funds, adding that the structures would have been generating revenue to the government had they been in good condition.
The Administrator informed the Honourable members that the Institute has been striving to be a "World class centre of Excellence in transforming Public Sector Governance, Management and Leadership Development" through collaborative efforts with Development partners. Speaking further, he said that the Institute is working with the World Bank to provide capacity building/training for Civil Servants in all the States on Fiscal Performance Management Framework.
Dr. Obatoyinbo said the Institute has not relented in the pursuit of its mission of "continuously engaging in modernising Manpower Practice and Leadership competencies of particularly the top and middle level manpower and in regularly strengthening the organisational capacities of Public Service Institute through provision of transformational Training, Research and Consultancy".
The Administrator further told the Honourable Members that the Institute is working tirelessly to achieve its mandate by providing "competency-based and demand driven training" that will build Public Servants that will conduct government business with transparency and accountability in line with the Strategic Implementation Plan and the Productive, Incorruptible and Citizen-Centred (EPIC) culture of the Head of Service.
Dr. Obatoyinbo informed the Honourable Members that integrity and transparency has won the Institute a relationship with 3 State Governments to Build Capacity, Training, Conducting Examinations and Promotions for the civil servants.
He noted that works on the projects in the Institute is being slowed down as a result of poor release of funds and appealed to the Honourable Members to assist in getting more releases for the Institute.
Ekaete Umo
Head, Press & Public Relations