PSIN EMBARKED ON SECOND LEG, BENCH-MARKING AND STUDY MISSION TO THE UNITED KINGDOM
Furtherance to one week Benchmarking and Study Mission to the United Kingdom, organized by PSIN for top officials from the Health Institutions in Nigeria earlier in February 2023, PSIN has embarked on the second leg with a total number of seventy-four (74) participants drawn from thirty different Ministries, Department and Agencies. They are:
Office of the Head of the Civil Service of Nigeria
Federal Capital Territory Administration
Federal Ministry of Health
Federal Ministry of Special Duties & Inter- Governmental Affairs
Federal Ministry of Science, Technology and Innovation
Federal Ministry of Women Affairs
Barau Dikko Teaching Hospital Kaduna State
University Teaching Hospital Calabar Cross River State
University Teaching Hospital Enugu State
University of Maiduguri Teaching Hospital
Federal Ministry of Justice
Federal Ministry of Works and Housing
Medical Rehabilitation Therapists' Registration Board of Nigeria
Ministry of Interior
Ministry of Police Affairs
National Hospital Abuja
Nigeria Export Processing Zones Authority
Optometrists and Dispensing Opticians Reg. Board
National Lottery Regulatory Commission
National Lottery Trust Fund
Jigawa State Contributory Healthcare Agency
Jigawa State Ministry of Health
Bayelsa State Ministry of Health
Ondo State Ministry of Health
Katsina State Ministry of Health
National Obstetric Fistula Centre Baba Ruga Katsina State
Federal Medical Centre Umuahia Abia State
Public Service Institute of Nigeria [PSIN].
The Mission, designed to expose and equip the Nigerian public sector administrators and promoters to best practices in Civil Service management as obtainable in the United Kingdom, targeted innovations in the public service, ICT adoption in public administration and seeking possible areas of collaborative partnerships, with the aim of providing technical support and instructional strengthening for improving the quality of public sector service delivery to Nigerians.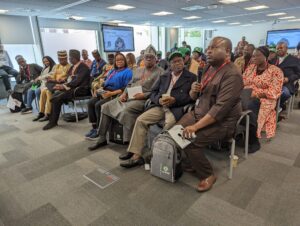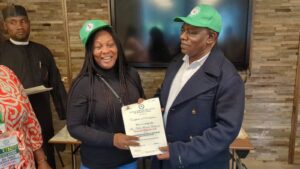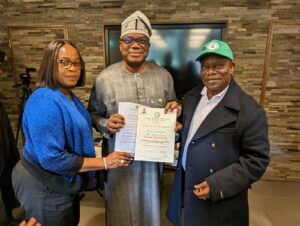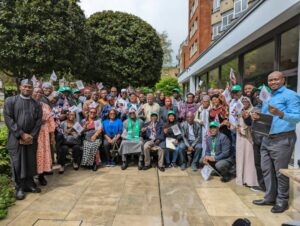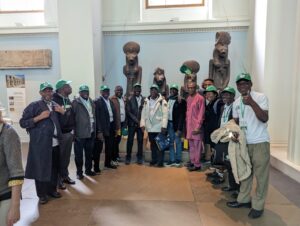 Institutions visited includes:  Royal College of Surgeons England , Bedfordshire Police, Office of Bedfordshire Police and Crime Commissioner, University of Bedfordshire Police, College of Policing, Mayor of Southwark  Borough, Innovation in Africa, National Lottery Commission, British Museum, London Chamber of Commerce, Commonwealth Enterprise & Investment Council (CWEIC), National Health Services(NHS), London School of Economics(LSE),  Civil Service Club (drone operations), Public Administration International (PAI), University College London(site tour), Foreign Commonwealth Development Office (FCDO), and Nigerian High Commission,
Notable amongst the Speakers  are Festus Akinbusoye, a renowned Nigerian-British Politician with impressive record and achievement in law enforcements, leadership, and community service, The Rt. Hon. Lord Hugo Swire-Deputy Chair CWEIC served as the Conservative Member of Parliament for East Devon from June 2001 to December 2019 amongst others , Dr. Rocco Friebel- Assistant Professor of Health Policy Department of Health Policy, Ann Hall an international freelance trainer designing and delivering a wide range of HR and Leadership programs both in UK and overseas, Councilor Sunil Chopra a well-respected and dedicated community leader who has been actively involved in the public service for many years and Councilor Michael Situ- Deputy Mayor of Southwark.
Earlier, during the welcome briefing and grouping of participants, the Administrator / Chief Executive Officer, Public Service Institute of Nigeria, Dr. Abdul-Ganiyu Obatoyinbo mni, also a participant, expressed deep appreciation to the Head of Civil Service of the Federation Dr. Folashade Yemi-Esan for providing support for the Study Mission. He stressed that benchmarking/study visit is in line with the transformation agenda drive of the Federal Public Service as contained in the 2020–2025 Federal Civil Service Strategy and Implementation Plan (FCSSIP25).
He appreciated permanent Secretaries, Directors from various Ministries, Departments and Agencies, Chief Medical Directors from Teaching Hospitals, Federal Medical Centers, and other key players in Federal and State Ministries for their participation in the experiential learning.
Dr. Obatoyinbo noted that the United Kingdom benchmarking/study mission, sixth in the series was organized by the Public Service Institute of Nigeria (PSIN), in pursuit of her mandate of improving the quality and effectiveness of the civil service to further expose and equip participants with myriad of innovations that distinguish United Kingdom's public service. He added that Experts and leaders from different institutions in the UK would interface with participants from Nigeria.
The Mission led by the Permanent Secretary Federal Capital Territory Administration (FCTA) Mr. Olusade Adesola lasted for one-week (30th April to 7th May 2023 and climaxed with Investiture/ Decoration of participants with the prestigious Public Service Institute of Nigeria (PSIN) Alumni (the maiden edition).
The PSIN Alumni association was established among other things to exchange professional knowledge, encourage networking, bonding and provide advocacy in support of PSIN.
Adegboro Modupe
Head (Media and Protocol)