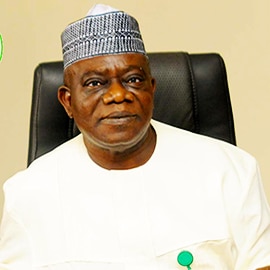 WE ARE BUILDING A PUBLIC SERVICE OF YOUR DREAM – Obatoyinbo
The Public Service Institute of Nigeria (PSIN) played host to students of the Federal Polytechnic, Nasarawa State who were in the Institute on an excursion.
Welcoming the students,  the Administrator/CEO Public Service Institute of Nigeria, Dr. Abdul-Ganiyu Obatoyinbo who was represented by the Director Human Resources, Mr. Yasode informed the students that PSIN is a  Manpower Development Institute (MDI) under the supervision of the Head of the Civil Service of the Federation with the mandate to build the capacity of Public Servants to enable them perform optimally.
Speaking further, he said  PSIN is poised to provide competency-based and demand driven training to Public Servants in order to install in them a commitment to public service values,  ethics and integrity. The Director informed the students  that the Head of the Civil Service of the Federation Mrs. Winifred Oyo-Ita is committed to  the repositioning and transformation of the Civil Service in order to  bring about the desired change. As part of the process the Head of the Civil Service of the Federation has developed  the Federation Civil Service Strategy and Implementation Plan (FCSSIP) as approved by the Federal Executive Council (FEC) to drive this process.
He assured them that as the foremost Capacity Building Institute in Africa,  the Institute is building a Public Service of your dream by developing modules that will help in the actualization of the transformation in the Public Service.
Mr.  Yasode said the PSIN has in turn developed it's strategic plan to enable the Institute key into the transformational agenda of the Head of Service. He told the students that the Civil Service is being transformed to be responsive to the citizens through the entrenchment of the EPIC Culture in Public Servants to enable them become Effective,  Productive,  Incorruptible and Citizen friendly.
He stressed the need for youths to constantly seek knowledge and improve their capacity so as to become assets rather than liabilities to the country. He urged them to take full advantage of every opportunity to equip themselves so as to be ready to take over the mantle of leadership in the Public Service and effectively deliver quality service to the citizenry.
The students were given lectures on the PSIN and its Mandate,  the EPIC Culture,  Public Policy Processes,  the e-Library and the role of ICT in the emerging world. They were taken round the various facilities in the Institute.
Ekaete Umo
Head (Press and Public Relations Unit)