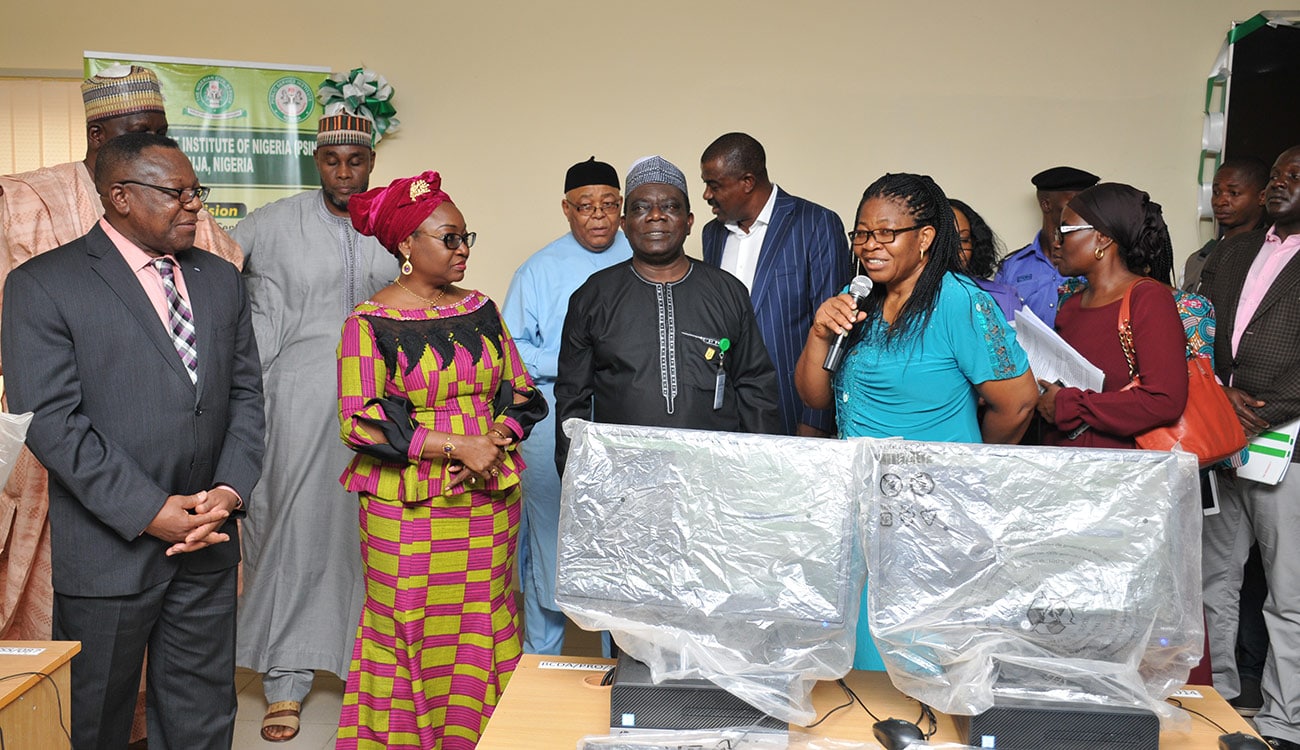 HOS Commissions 80 Seater Cbt Centre In Public Service Institute
It was a record setting event as the Head of Civil Service of the Federation, Mrs. Winifred Ekanem Oyo – Ita commissioned an 80 seater Computer Based Test (CBT) Centre  in the  Public Service Institute.  The CBT centre is a donation to the Public Service Institute (PSIN) by the African Capacity Building Foundation (ACBF) under the Bill and Melinda Gates Foundation Africa Capacity Building grant.
She explained that to reposition the public service, there is a need to build capacity of its work force in order to imbibe the culture of being efficient, productive, Incorruptible and Citizen Centred in the Nigerian workforce. She added that the new centre will strengthen the capacity of the Institute, which will in turn go a long way to help in actualising the Strategic Plan of the Office of the Head of Civil Service of the Federation which is aimed at repositioning the Civil service to operate in line with global best practice.
Mrs. Oyo-Ita called for continued support from the ACBF to build its capacity to become the foremost capacity building institute in Africa describing the partnership between ACBF and PSIN as the "Partnership that works".
The Administrator/CEO of PSIN, Dr. Abdul-Ganiyu Obatoyinbo in his address expressed gratitude to the ACBF for the numerous projects it is funding to re-engineer the PSIN in realising its mandate of providing competency-based and demand driven capacity building to Public servants. The new 80 seater CBT Centre, will among other things shorten the time frame used in conducting computer based tests and also ensure transparency and enhanced integrity of examination process as well as promote E-Governance through Information Communication Technology (ICT).
The PSIN boss urged the Public Servants and other Institutions to adequately utilise the centre to acquire computer literacy, transparency in their recruitment and promotion exercises. He, however, appealed to ACBF to look into other areas of need of the Institute.
Speaking at the occasion, the Executive Secretary of ACBF, Professor Emmanuel Nnadozie stated that the gesture was part of its corporate social responsibility to fortify the PSIN capacity building programme. He expressed his organisation's willingness to strengthen the mutual relationship existing between the Institute and ACBF. The donation, he said, was to complement the Institute's efforts towards ensuring excellent service delivery to the citizenry.
The Director of Programmes, Mrs. Omobola Anthonia Thomas, expressed her profound gratitude to the Head of Service, top government officials and other distinguished guests for finding time to grace the august occasion. She also expressed her immense appreciation to the ACBF for finding the Institute worthy of the gigantic investment assuring that the centre would be impactful in national development. She assured the ACBF that the facilities will be protected, maintained and put to judicious use.