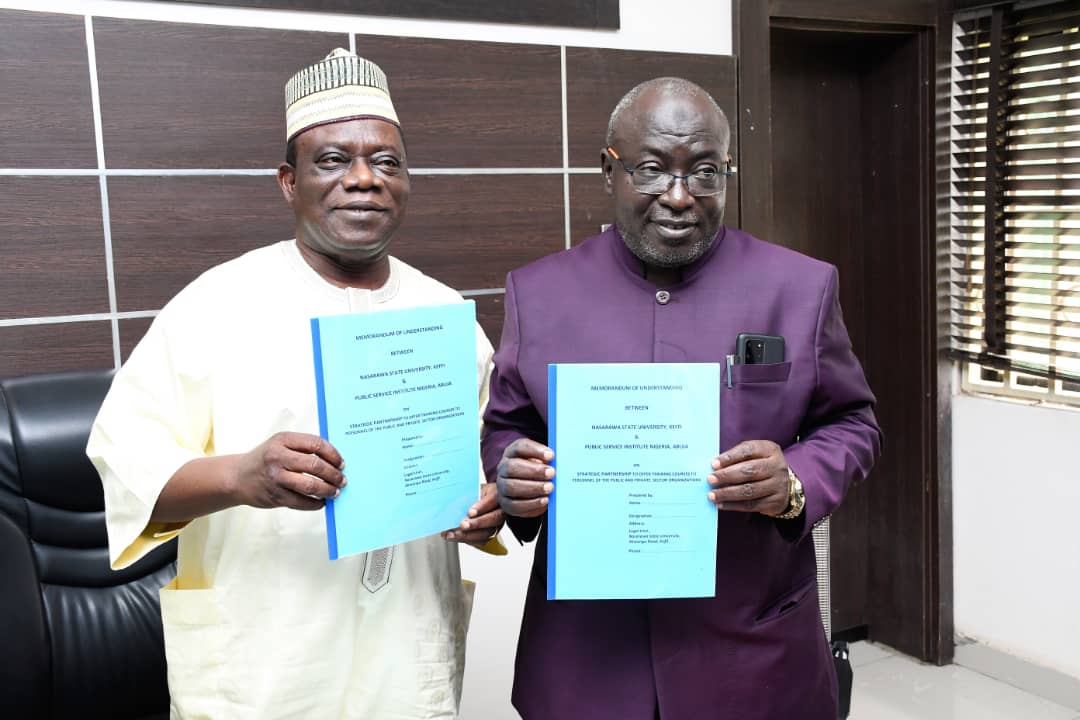 PSIN, NASSARAWA STATE UNIVERSITY KEFFI SIGN MOU ON CAPACITY BUILDING PROJECTS
The Public Service Institute of Nigeria on 18th of August 2021 signed Memorandum of Understanding (MOU) with the Nassarawa State University Keffi. The two institutions are collaborating on the use of facilities, staff exchange, and other deliverables that will impact on service especially in the enhancement of public administration, corporate governance and leadership.
The Administrator Chief Executive Officer, Public Service Institute of Nigeria, Dr. Abdul-Ganiyu Obatoyinbo mni, while addressing the visitors stated that, Public Service Institute of Nigeria, as a foremost Public Service training institution, plays a pivotal role in modernizing Public Governance, Management and Leadership Development through Transformational Training, Research, Consultancy and Advocacy. He added that services offered by the Institute are geared towards building a first class Public Service that is Efficient, Productive, Incorruptible and Citizen Centered.
Dr. Obatoyinbo noted that Nassarawa State University is known as one of the fast growing Universities in Nigeria that has carved a niche for itself, which no doubt formed the bases for the partnership. He pledged the institutes' unalloyed commitment in ensuring a long lasting relationship.
Responding, the Vice-Chancellor Nassarawa State University, Keffi Professor Suleiman Bala Mohammed thanked the Administrator and the entire management staff of PSIN for the warm reception that was given them.
He stated that Nassarawa State University despite being a State owned institution is one of the leading tertiary institutions in Nigeria and that the institution has made a name for itself as the most Cosmopolitan University in Nigeria. He further stated that the University operates eight faculties, fifty three Departments and eight Centers .He affirmed that the current management is working assiduously to transforming the University to a 21st Century citadel of learning by ensuring that its knowledge systems are ICT driven and guided by quality and standard.
According to him, the collaboration between the two Institutions will impact Public Service in a significant way especially in the enhancement of Public Administration, Corporate Governance and Leadership.
He further added that, with the MOU signed, both institutions will build a synergy that enables them respond to national development challenges through manpower capacity enhancement and as well looking forward to see the two Institutions develop a research and development framework that will assist Federal and State Governments in strengthening the public sector for socio-economic development and advancement.
Modupe Adegboro
Head (Media&Protocol