PSIN, ON THE MOVE TO PARTNER WITH THE MINISTRY OF INTERIOR, IN THE AREA OF CAPACITY BUILDING OF STAFF.
The Administrator/Chief Executive Officer of the Public Service Institute of Nigeria Dr. Abdul-Ganiyu Obatoyinbo has called on the Ministry of Interior to support the Institute in its transformational training in modernizing public sector governance, management and leadership.
Dr. Obatoyinbo stated this during a courtesy call on the Honourable Minister of Interior, Ogbeni Rauf Aregbesola. Congratulating the Minister on his appointment, he said, his antecedent while serving as the immediate past Governor of Osun State, is a pointer to the fact that, he will surely move the Ministry and the Services under him to a greater height.
Speaking further, Dr. Obatoyinbo informed the Minister that, in line with the Federal Civil Service Strategic Implementation Plan (FCSSIP) driven by the Head of the Civil Service of the Federation, to transform the Public Service, the Institute has reviewed its curriculum and developed programmes to build the capacity of Public Servants to make them Efficient, Productive, Incorruptible and Citizen-Centered (EPIC) and has as well, introduced courses in entrepreneurial development and vocational skills training.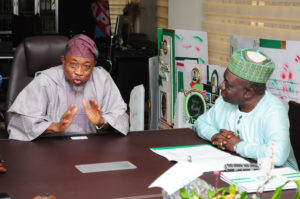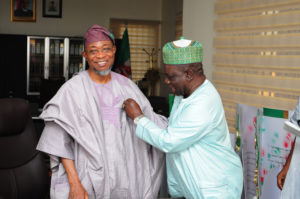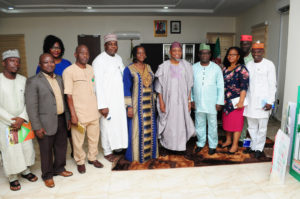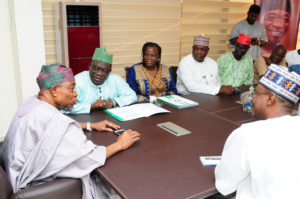 The Administrator also solicited for the Minister's support in encouraging the staff and Services under his Ministry to key into various capacity building Programmes organised by the Public Service Institute of Nigeria. He assured that his administration is poised to transform the Institute into a world-class centre of excellence and the Harvard of Nigeria.
In his response, the Honourable Minister of Interior, Ogbeni Rauf Aregbesola expressed his delight for the Administrator's visit to his office. He noted that the visit was the first of its kind since his assumption of duty as the Minister and assured the Administrator that the Ministry of Interior and its Services will give the Institute the support to achieve its mandates.
The Minister commended efforts of the Administrator for the introduction of entrepreneurial skills development in the curriculum as well as transforming Public Service Institute of Nigeria to Nigeria's Harvard.