DR. ABDUL-GANIYU OBATOYINBO CALLS FOR STRONG SUPPORT FOR PSIN FROM SMEDAN
The Administrator/CEO of Public Service Institute of Nigeria (PSIN), Dr. Abdul-Ganiyu Obatoyinbo mni has called for collaboration and strong support from SMEDAN in area of developing PSIN Entrepreneurship Contents, strong Faculty and funding.
The PSIN boss, made this assertion when he received Director General SMEDAN Mr. Olawale Fasanya and his team in his office.  He identified Entrepreneurship as one of the guaranteed pathway to self-Sufficiency of Civil and Public Servants while in active Service and outside Service. He added that the Institute has designed a plan to ensure all Civil Servants that passes through training in the Institute benefit from entrepreneurship training.
This is to reduce dependency on salary as the only source of income and also to allay the usual fear of life after retirement from active service.
Dr. Abdul-Ganiyu Obatoyinbo further stated that Entrepreneurship Culture, is one of the four core areas released by OHCSF to transform the Civil service over 3 years, centred on developing an efficient, Productive, Incorruptible and Citizen Centred Culture (EPIC). He reiterated that this is in line with the Federal Civil Service Strategy and Implementation Plan on capacity building and personnel development of Public Servant.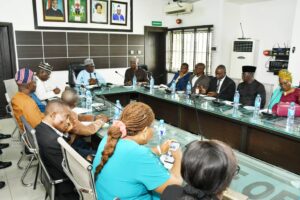 He appealed to SMEDAN to support the Institute in the area of Content development, strong Faculty support, Research, to attract funding to PSIN from some of their development partners and to include PSIN in their capacity building programmes by bringing some of their programmes to the Institute.
In his response, Director General SMEDAN Mr. Olawale Fasanya expressed SMEDAN readiness to partner with PSIN in entrepreneurship development. According to him the two organisations will work out a common front for the benefit of all. He assured of SMEDAN readiness to organize a Train- the- Trainer programme for PSIN staff, make use of PSIN facility for some of their training and even deploy some of their faculty members to complement that of PSIN.
To drive the collaboration, a joint technical Committee was instantly set up to work out modalities for the partnership.
Modupe Adegboro
Head (Media and Protocol)
23rd August 2022